The restaurant industry has been forced to adapt in the face of COVID, and one emerging trend that has come out of it is contactless payments. This is a great solution to not only aid in keeping your guests and staff safe, but if done well, also solves two core problems your guest has been facing for years when it comes to paying: transparency and control.
The issue, however, is not all contactless payment solutions are made equally. In fact, most aren't even contactless nor do they begin to solve the two core guest problems.
I'm talking about QR Code / Pay-at-the-Table solutions.
QR Code contactless payment solutions are a dime a dozen. Everyone's doing them – where a QR code is printed at the bottom of the receipt for the guest to scan and pay through a web browser. The issue is it's just a band aid fix to the real problem, not to mention the fees they charge restaurants cut into already thin margins.
On the other hand, there are contactless payment solutions like Vēmos Pay that do solve all issues for both the guest and the restaurant — for free.
But first, let's look at why QR Code / Pay-at-the-Table systems aren't a great solution for restaurants or its customers.
1. It's not actually a contactless payment experience
Let's start with the most obvious — QR codes printed on the check aren't contactless. Your server delivers the printed check to the guest, the guest then grabs that check to look it over and, should they choose to, scan the QR code to pay. If they're splitting the check, they then need to pass that same piece of paper to others in the party who then follows the same process. Everyone's touching the same item and passing it around, which defeats the whole contactless concept.

2. Your guest still spends an average of 12 minutes paying their check
Did you know it takes an average 12-15 minutes for a guest to pay their check once they're done with their meal? That's a lot of wasted time for both you and your customer. QR codes printed on checks don't fix this. Your guest still needs to wait for your server to bring the check in order to review the bill and pay it. It also takes more time and effort for your guest since they're now the ones in charge of manually choosing or entering their payment information on a browser.

3. QR codes don't solve guest transparency
The guest experience of not knowing what you owe until after you've consumed the product is a broken one. No other experience in any other industry is this way, and the digital age has caused consumers to expect transparency in all of their interactions. So putting a QR code at the bottom the check is more of the same. The only thing it solves is the guest not handing a credit card over to the server. Instead, consumers are looking to solutions like Vēmos Pay that allow them to view their check the moment they sit down and have complete transparency throughout their entire dining experience.

4. There's no consistency
Most QR Code / Pay-at-the-Table solutions are proud to promote that there's no app required. This sounds great on the surface, but this actually causes more headaches for the guest. Apps allow for a secure centralized place for guests to store payment information, so that when it's time to pay they simply click a pay button rather than needing to whip out their credit card and enter it into a web browser every single time.
Imagine a world where Uber wasn't an app and was a QR Code cab system. In this world, the cab driver would print a receipt when you got to your destination, you'd scan the QR code to bring up a browser, you'd enter your payment information, and only then would you be able to leave the cab. Sounds silly compared to what you know, right? Uber automated all of that by having an app where riders could transparently see their cab fare and could pay automatically using a stored payment method in the app. The app is what allowed rides to be consistent, fares to be transparent, and payments to be simple.
So what's a better solution?
Just how Uber automated paying for a taxi service, Vēmos Pay automates paying a restaurant bill.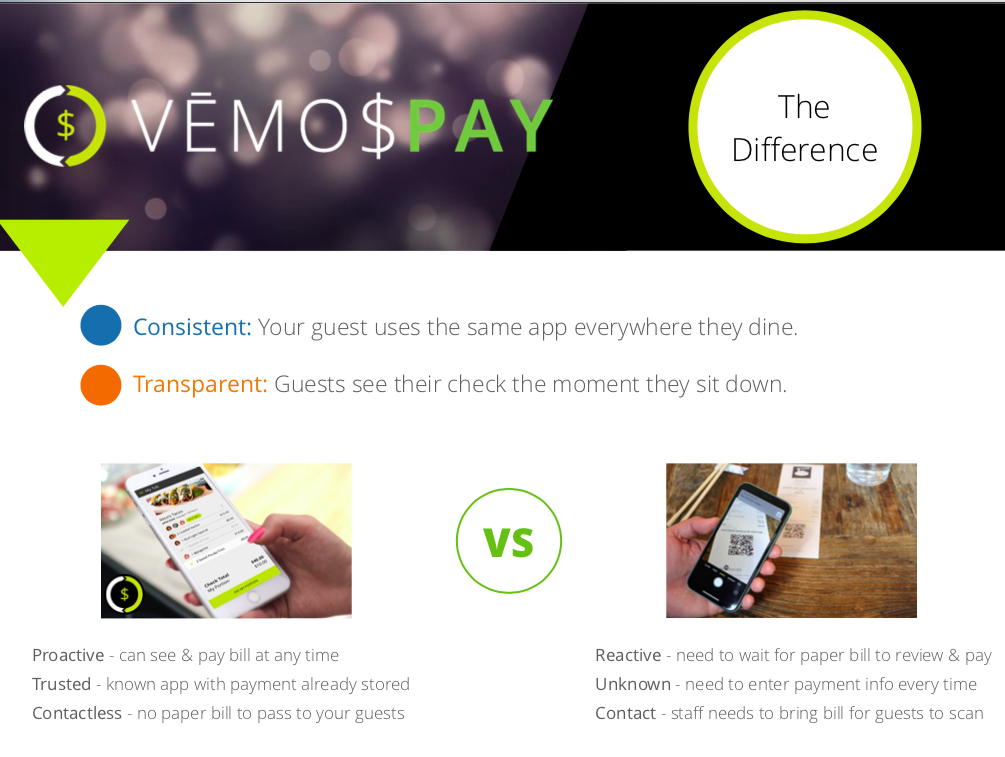 Vēmos Pay is a consumer app that allows your guests to view, split and pay their check from their own device. Your guest has transparency throughout their entire dining experience by being able to see their check the moment they sit down by entering in their table number. Others in their party can do the same, so when it comes time to split the check they can do so by choosing which items they ordered right in the app. And when it comes time to pay, they have the control to pay whenever they're ready by using a stored payment method — without needing a printed check first.
It's truly contactless, gives consumers the transparency and control that they didn't have before, and it's free for both the restaurant and consumer.